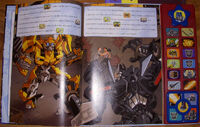 Transformers is the title of an Interactive "Play-a-Sound" storybook published by Publications International, ltd., Lincolnwood, IL. It is a retelling of the story of the 2007 Transformers movie.
As the reader progresses through the story, they encounter various icons which indicate they are to press one of the buttons down the right hand side of the book, playing a sound effect.
There was also an included "board game", utilizing sound effect buttons that looped a random number of times.
Featured Characters:
Supporting Characters:
Villains:
Publication Info
Edit
Template:Listen Adapted by Shawn Currie
Illustrated by Guido Guidi and Josh Burcham
20 pages, yet manages to cram in as much plot as Michael Bay
ISBN: 978-1-4127-6797-2
11 3/4" X 12 1/8"
Ages 3+
Uses 3 replaceable AG-13 button cell batteries (included!)
Conforms to ASTM F963-03 *AND* Part 15 of the FCC Rules! Wow!
Trivially Pointless Minutia
Edit
Barricade is described as being 16 feet tall.
Sector Seven captures Bumblebee by using a helicopter with a giant net.
During the battle in the city, Bumblebee "mouths the words, 'Go, Sam.'" How he does this without a mouth is not explained.
At the end of the story, Optimus Prime beams a signal of hope to all surviving Autobots, while standing on the top of Mount Everest.
The Board Game
Edit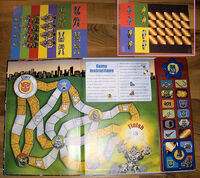 The last two pages of the book are a board game. Your cardboard marker piece is printed on both sides, one with a robot mode, and the other with vehicle mode. You start on one corner of the map in robot mode. By pressing the button with a stomping foot, you will hear a random number of stomps. Move that many spaces forward.
If you encounter a smooth path, press a button for the transforming sound effect and flip your cardboard marker inside out to switch to vehicle mode.
If you encounter a Decepticon symbol, press the corresponding button and you will hear a random number of blast sounds; you must move that many spaces back.
When you reach a Decepticon character, you must press the corresponding button. If you hear the happy AllSpark noise, you may take a spark chip. If you hear the gloomy Decepticon sound, you must wait until your next turn to try again.
Once you have all five spark chips, you may proceed onto Megatron, and press his button. If you har a laser blast, you must try again on your next turn. If you hear the happy AllSpark Cube noise, you win!
Distribution
Edit
Transformers interactive Play-a-Sound books were available in the US at Kohl's stores.
External links
Edit